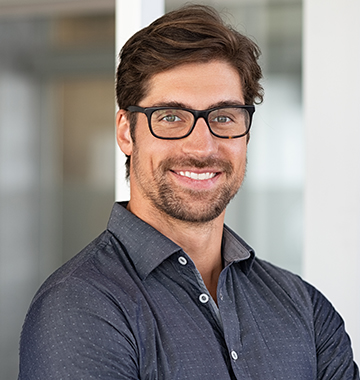 Dental crowns can be made from a variety of high-tech, biocompatible materials and they fit over damaged or decayed teeth. They can also fully replace a tooth when supported by a dental implant. They can be crafted with metal, porcelain, or porcelain-fused-to-metal. Metal ones, made from gold or silver, typically go on the molars in the back of your mouth because they need to withstand more pressure from your bite and are less visible in this location. Porcelain is more common for teeth towards the front of your mouth because they look and feel like your natural, existing teeth. Porcelain-fused-to-metal combine the strength of both: they are more durable while also blending in seamlessly. When you come in for this procedure, we are happy to discuss the best options for your unique needs.
When Do You Need One?
We suggest dental crowns when a tooth suffers significant damage and cannot be repaired or masked with cosmetic procedures — like veneers. They can fix issues ranging from cracks and chips to decay to keeping a dental bridge in place. Ultimately, crowns help strengthen your teeth so you can bite and chew with confidence.
Same-Day Crowns
The process of getting a crown can frequently require multiple visits and temporary solutions while your final one is being crafted. We know that your schedule is busy and attending several appointments can be inconvenient. This is exactly why we offer same-day crowns to our patients. If you are interested in receiving a crown in just one visit, please be sure to let us know.
Schedule An Appointment For A Crown
You don't have to suffer from a damaged tooth any longer. Our same-day dental crowns are an excellent solution and will help you regain confidence in your smile. You can schedule your appointment by calling Desert Ridge Prosthodontics in Phoenix, AZ, today at (480)-502-9833.