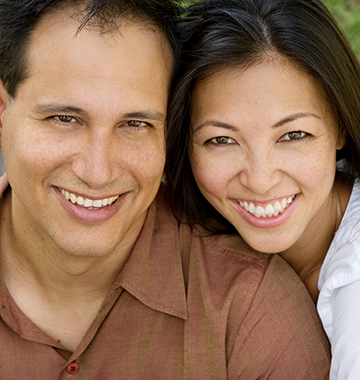 All-On-4 implants allow a full prosthetic to be supported by just four dental implants. This is a great way to replace a full row of teeth with a minimally intrusive procedure, making it incredibly efficient and effective. Because they are permanent, they are an attractive alternative to dentures, and the entire procedure can be done in just a single day.
Why Choose Implants?
In addition to being permanent, implants benefit the overall health of your mouth and jaw. They provide your jawbone with sufficient stimulation, allowing it to maintain its density. When your jawbone isn't stimulated, it can weaken over time, which can eventually require reconstructive procedures to keep your face from sinking inward. A weakened jawbone can also hinder the ability to chew properly, to get adequate nutrition from food, which can impact every system in the body.
What To Expect From The Procedure
Even though you are getting a new set of teeth, the procedure is minimally invasive and can be done quickly. Once we sedate you, we insert four titanium posts into your gum. We then attach the set of crowns to the four posts. Within two to four months, your mouth and jaw should be fully healed, with the posts having permanently fused into place.
Schedule Your All-On-4 Today
We want to provide you with a full, radiant smile, so please schedule your appointment today. You can call Desert Ridge Prosthodontics in Phoenix, AZ, today at (480)-502-9833.